The recently published Institute for Public Policy Research report The Generation Strain is, says ADASS President David Pearson, one in a  long line of commentaries and reports to demonstrate that, from a demographic perspective, our capacity to care as a nation will be overwhelmed by need.
It is difficult to understand why this should be the case in the fifth richest country in the world, but the figures speak for themselves. However, the report focuses not just on the provision from the public purse or from the purses of people who fund their own care - but on informal carers: people who make a huge contribution to sustaining others who would otherwise need far more from health and social care services. In many cases, this help is provided with some detriment to the carer's own health and wellbeing.
The landscape is changing. The development of the Care Bill, the current impetus towards integration, and the establishment of the Better Care Fund... All these bear witness to the pursuit of changes to improve outcomes while all the time the money available to achieve that ends reduces. The jury is out, as they say, as to whether the package of reforms since austerity gripped the land will suffice.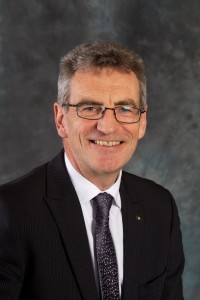 The foundations of the new landscape – Clinical Commissioning Groups (CCGs), Health and Wellbeing Boards, the new structure of NHS England with its so-far inspiring new chief executive, Healthwatch and the new public health settlement - are still settling gradually and perhaps uneasily. The tectonic plates of our health and social care infrastructure – the ones that the Care Quality Commission's David Behan spoke of so eloquently - are still grinding… And who knows what minor earthquakes and tsunamis are still yet to come…
Full marks then to IPPR for putting the focus back onto informal care, community cohesion and plain, old-fashioned social care – the sand and cement that pull these plates together and hold them fast. They correctly point to some really impressive new thinking and new ways of working from across the globe and in our cities and countryside. They quite properly single out Leeds as an exemplar. But the good practice they describe there can be found elsewhere, wherever inspired social care, health and other colleagues pool budgets, effort, ideas and skills into a common will focused exclusively on ensuring services provide better outcomes for our citizens.
Yes, in caring environments, caring carers, somewhat tautologically, are at a premium. And IPPR are right to back up the recent National Audit Office report which showed graphically just how much we are indebted to informal care. The Institute calculates their contribution at some £55 billion – a necessary calculation even if those bound up with the caring activity sometimes don't like their efforts being seen in monetary terms.
The importance of this is recognised in the extension of our responsibilities to carers within the Care Bill itself, not only through additional emphasis on the assessment of need, but also on the provision of services. Note to Health and Wellbeing Boards: this shows how important it is that all future health and social care strategies/policies address the needs of carers and that this is threaded through all our thinking and practice.
Some of IPPR's central recommendations are worth repeating:
New neighbourhood networks should be developed for older people to give and receive support and to offer extra help to families and carers, reducing pressures on the NHS and social care.
House public services for different age groups (such as childcare and care for the elderly) under one roof, to bring generations together.
Invest local public health budgets in strengthening community groups in those local authorities with the weakest record for community-based care.
Stronger employment rights for those caring for people who need more than 20 hours of care a week, to make it easier for family members to combine work and care.
Discuss!