---
The world we knew vs today's reality
A year on from the last International Women's Day and the world is a dramatically different place. in many ways, the coronavirus pandemic has made it unrecognisable.
The mantra of 'trying to have it all' has truly taken on a whole new meaning in our diverse communities, where many of us - already working full-time - are now balancing additional responsibilities made harder by lockdown restrictions. These include caring for loved ones with long term conditions, often while looking after children and balancing all the elements that come with managing our home lives.
It is, in essence, like trying to manage multiple roles and feeling you're failing in all of them most of the time! COVID-19 adds yet more layers of complication, isolation and frustration.
In a year of so many challenges, my way of coping has been to channel all the negativity into positive outcomes. Numerous bereavements have meant I have felt the impact of the lack of social contact more keenly.
In my culture, during times of grief, we come together and support each other. This has been particularly hard at a distance. As someone with a large extended family and community networks, I now hear most days of the passing of someone we know. I have often felt overwhelmed with feelings of frustration, sadness and guilt.
In addition, the inability to access additional physical support for my caring role has meant I have so much more to manage. I have felt invisible, alone and often inadequate.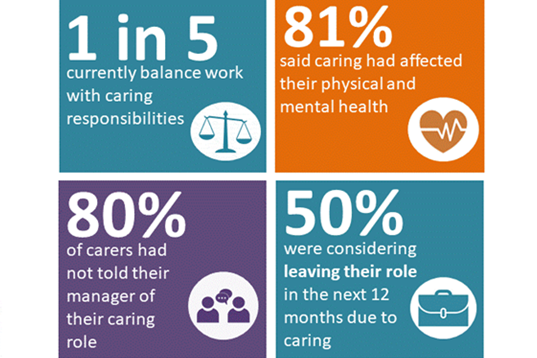 Turning negativity into a force for good
I'm extremely fortunate enough in my job to be able to do this; to channel all that grief, frustration and sadness into supporting others in positive ways. This requires a lot of mental and emotional energy, which I have had to think carefully about. In particular, to think about the areas I have chosen to challenge, not out of cowardice, but solely for the sake of my mental wellbeing.
Supporting carers is not just a job for me, it's a vocation. It's been heart-breaking to hear the experiences of other carers, many of whom have felt overcome by the negativity of years, let alone the last few months. Many have felt forgotten and alone. A national lockdown only magnifies these feelings.
The Unpaid Carers programme has responded quickly, working together with our partners to try and find tangible and meaningful ways to support our carers.
We have managed to deliver significant change in a short period of time with initiatives like working carers passports, the carers toolkit, mental health and well-being resources, the imminently launching young carers app and, most recently, preparing West Yorkshire Harrogate Health and Care Partnership to support carers to access their free COVID-19 vaccinations.
The work goes on
I feel we have much more to do before we can hold our heads up high and say to our carers: "We did everything we could to help."
That said, this work has come at significant cost; feelings of inadequacy and guilt. As a working woman and leader trying to embody the approach and values of compassionate leadership, I've discovered, in this new, pandemic altered world, I had forgotten to be compassionate to myself.
I know I am not alone. Like many other fabulous women across this country I have been the one looking graceful on the surface but pedalling frantically underneath, trying to balance all the escalating expectations coming my way.
I could choose to continue to accept this state of affairs but I do not. I #choosetochallenge to make sure we move forward and learn lessons from the challenges women have experienced during this most difficult of times and not perpetuate them.
As I look forward with hope to a new world, I see opportunity - an opportunity to address inequality and galvanise positive change with our allies and networks. That change starts today.
I want to pay my own personal tribute to all those fabulous women, the graceful swans who demonstrate #everydaycourage inspite of all the difficult challenges they face. They continue to inspire me each and every day.