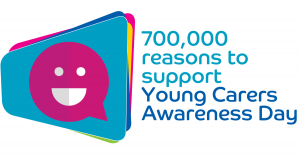 Thursday 26 January marks this year's Young Carers Awareness Day. Organised by Carers Trust, it's an opportunity to not only acknowledge the debt we owe the many thousands of children and young people who care for their loved ones every day, but to champion greater awareness and support for this often overlooked group.
Young carers look after family members with pride and without resentment, but often to the detriment of their own health, wellbeing, education and life aspirations. In the first of a series of blogs in the run up to #YCAD, Anna Morris, Young Carers Lead at Carers Trust, explains why  this year's theme, 'When I grow up…', is a call to action to help children and young people realise their most cherished dreams...
Growing up - it's not easy. Do you remember? The hormones, the friendships, the person you fancy, the school work and making choices about which college, university or a job might kick start your future?

Now imagine you had to look after your mum when you were growing up and that list gets longer - the worry, the tiredness, the getting up at 6am to get your mum dressed and siblings ready before school; the coursework you didn't get round to because mum was poorly last night. The cycle of pressure and worry start all over again as you think about having to tell your teacher it isn't done, and the not knowing what to do after your GCSEs because you're worried you won't get the grades.

It's tough being a young carer. Often hidden, unnoticed, they regularly go without the support that could help them do well. Young Carers Awareness Day is about changing all that. It's a national day of recognition for the UK's 700,000 young carers - a day when everyone recognises the challenges young carers face and shows their support.

This year's theme is 'When I grow up' and focuses on helping young carers to realise their dreams and ambitions.

Young carers are likely to get nine grades less at GCSE than their friends who don't have caring responsibilities. They're four times more likely to drop out of college or university, struggling with balancing their work and caring responsibilities. When they do get a job it is more likely to be lower paid and lower skilled.

Is this a fair start for children who selflessly look after family members who are ill, have a disability, mental health problems or addiction? Is it right that their own futures are jeopardised because they care for someone they love? Is it okay that we know this is happening and yet it continues?

Young Carers Awareness Day is a call for all of us to do more! To raise awareness of the issues that young carers face, to tell our colleagues, our friends and school staff about young carers. They do exist. Young carers are present in every school – as many as two in every class.

Young carers need to be identified early by the people that come into contact with them. That includes their teachers, GPs and the professionals who are supporting the person with care needs. If young carers are identified early, they can be prevented from taking on responsibilities that are too much for them and the right support can be put in place to support the family.

Caring isn't a bad thing; it can be a great thing. But when it becomes too much, when it relies too much on the child, when the child is beginning to struggle emotionally, physically, at school, at home, with any of it, it is a problem.
To find out how you can support young carers visit our dedicated young carers' pages