One of the things that saddens Skills for Care's Chief Executive Sharon Allen the most about working in adult social care is that, all too frequently, the outstanding and compassionate work undertaken by social care professionals and organisations is undone by a minority, unfit or unwilling to treat those in need with dignity and respect.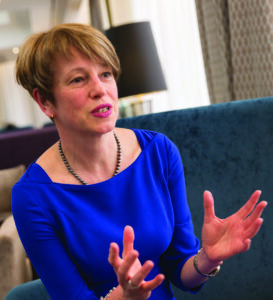 Stories of neglect or incompetence, shared in the full glare of the media, shine brighter in the public consciousness, blotting out the amazing, transformational work undertaken by the decent and talented majority.
Now, it is absolutely right that wrongdoing or poor practice should be exposed and addressed. Skills for Care works relentlessly with employers and other partners to prevent, expose and eradicate poor practice, but not at the expense of showcasing the very best in our sector.
We are also committed to identifying and sharing great practice in leadership and workforce development whenever and wherever we can. That's why we created the Skills for Care Accolades in 2003, making sure that - on at least one night of the year - employers, workers and training providers could come together to celebrate excellence in supporting the learning and development needs of frontline workers. It's certainly the highlight of my year when I watch highly skilled and committed teams honoured for their outstanding work, which we then share across the sector.
It's a chance for us to redress the balance, to shout from the rooftops that, on the whole, adult social care is provided to a very high standard by a dedicated, caring workforce. With that in mind, I want every one of the 19,300 organisations who offer adult social care to think about entering the Accolades this year - there are so many great stories to tell.
The benefits of winning were brought home to me when I visited Vida Healthcare in Harrogate with our Chair Dame Moira Gibb. The specialist dementia care provider won this year's 'Best Employer of under 250 staff' accolade. It was so uplifting for us to meet the team and to hear about their commitment to values based recruitment and the ongoing learning and development they provide for their staff.
Moira and I were very impressed with their culture of open, engaged leadership and a quest for continuous improvement. We were also told that winning an accolade was a fantastic experience for the employees who came to the presentation night, and an inspiration to those back in Harrogate, who all took pride in having their efforts rewarded on a national stage.
Our job is to support all employers in our sector to achieve this level of genuine care – to create environments we'd be happy for someone we love to live in if they needed to. We want to replace the narrative of doom with positive stories of skilled care and support. I believe high profile celebrations like our Accolades night can only help.
So what are you waiting for? The Skills for Care Accolades are open to organisations of all sizes and individual employers.
Entry forms are available here.
The 16/17 awards categories are:
Best employer of under 50 staff
Best employer of between 51 and 249 staff
Best employer of over 250 staff
Best individual who employs their own care and support staff
Best employer support for registered managers
Best employer support for Apprenticeships
Best recruitment initiative
Most effective approach to leadership and management
Most effective approach to integration and new models of care
Best endorsed provider of learning and development
The closing date is Friday 23 September 2016. The winners will be announced at an awards ceremony in Liverpool on Thursday 9 March 2017.