When the Mental Capacity Act 2005 came into force, it did so to bolster protection and empowerment for individuals who lack the capacity to make decisions about their own care and treatment and to help others plan ahead for when they may find themselves in a similar position. In her debut blog for Social Care News, Chair of the National Mental Capacity Forum, Baroness Finlay explains why greater awareness of the Act remains vital to its effectiveness.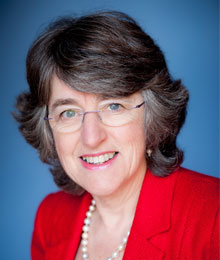 The Act places an enhanced duty of care on a range of health and care professions – including clinicians, social workers, carers and care providers - to pay full and respectful attention to a person's wishes and to consider carefully what is in their best interests.
Any care decisions must be taken with a view to preserving their dignity, safety and liberty as much as individual circumstances allow. And even if that person is deemed unable to make their own decisions, they must still be an active participant, as far as possible, in processes intended to keep them safe and healthy.
The Act's creation was – and continues to be – a good thing. But all the legislative frameworks, obligations and guidance in the world mean nothing if the principles and ways of putting them into practice are not shared or communicated properly. Ambiguity can only undermine the confidence of those who wish to serve the best interests of others and may delay or degrade a positive outcome.
Since the creation of the National Mental Capacity Forum and our first Action Day earlier this year, I've attended many meetings and events which have underlined in my mind why greater understanding and awareness of the Act remains crucial.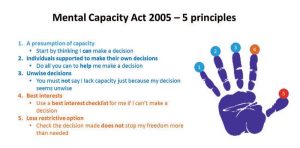 Firstly, the principles of the Act must be spelt out more clearly. I'm particularly impressed with this handprint graphic from Shropshire Council which serves as a visual aid for anyone unsure of their obligations. If nothing else, it prompts colleagues to remember that a lack of capacity cannot be attributed automatically to someone, just because a decision they make appears to be unwise.
Secondly, unpaid or informal carers have spoken to me of their frustration at not being consulted by health and care professionals as a matter of course. As the people arguably closest to the individuals being cared for, their insights and concerns must always be considered.
On this point, the soon to close call for evidence, currently being run by the Department of Health, is seeking the views and concerns of unpaid carers in support of a new National Carers Strategy. In a nutshell, it is about making sure carers are supported to look after their own health and wellbeing, to allow them to continue to care well for others.
When it comes to matters of mental capacity, carers should feel that their voice is being properly heard in decisions about those they care for. What they know about their loved ones' needs and wants should be taken into account. If you haven't already contributed, can I urge you to do so. The last day for submissions is 31 July.
And finally, more needs to be done to promote and explain legal and financial processes such as Lasting Power of Attorney (LPA). It is vital people understand their responsibilities when seeking and executing LPAs. The Office of the Public Guardian website features some useful guidance, which can only help to raise awareness and promote their proper use.
Meanwhile, the work goes on to raise awareness of the MCA. If you haven't seen it already, can I recommend you view this excellent short film hosted by the Social Care Institute of Excellence which, like Shropshire Council's graphic, does a great job of explaining the Act's principles clearly and in context.
I look forward to sharing more insights and updates with you soon.