Liz Norton is a carer who looks after a family member who lives with mental health issues.  Last month, Liz, fellow carer Rose Chitseko and colleagues from Healthwatch Essex visited the Department of Health. Here, she presents a personal perspective on caring and explains why others in her situation should consider contributing to the call for evidence before it closes later this month.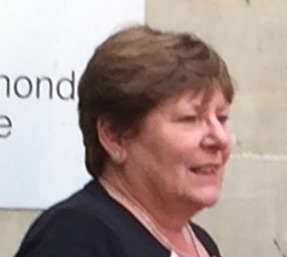 Why you ask, would I be invited to the Department of Health (DH)? Why would they be interested in me?
Answer: Both Rose and I are carers for family members and Healthwatch Essex invited us to join them speak with Mark Browne, the Carer Policy Lead at the department.
Mark and his team are collecting our experiences and views to inform a new government strategy for carers that will outline how support can be improved.
This strategy will aim to reflect carer's lives now and set out what more can be done to offer quality support in the future.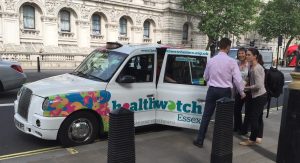 We arrived in Whitehall in the Healthwatch Essex Chatterbox Cab where we were met by Mark and members of his team involved in developing the new Carers Strategy.
After introductions and lots of photographs, we were taken to their big and rather daunting executive boardroom!
We were put very much at ease by everyone as Rose, Tom Nutt, the Chief Executive Officer of Healthwatch Essex and myself chatted to the Carers Policy Team about our role as carers. We went on to discuss what carers' day to day lives actually look like.
We explained that we wanted recognition as involved experts in the care of people we love, and support from all the organisations with which we indirectly collaborate. Rose and I were now in our comfort zone and happy to talk about the job of caring having spent many years in this vital role.
We discussed the Healthwatch Essex Carers Said report, which outlines what Healthwatch Essex has learnt by listening to hundreds of carers.
Their work provides a fantastic insight into the lived experience of carers and highlights our hugely diverse needs and experiences.
The report includes quotes from carers themselves. What comes through time and time again is that services are fragmented, inconsistent and information not helpfully shared between statutory organisations.
Rose and I felt very inspired to talk about how carers feel and the importance of listening to what we say about our caring role and felt empowered being together to share this great day.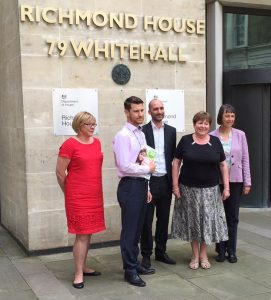 We welcome the development of the new Carers Strategy, this feels like something very exciting for all carers. The strategy is going to focus on topics like better carer's health…something which has often been overlooked in the past and yet is hugely important for the whole family.
DH will be taking into account what carers say through their online survey How can we improve support for carers? in order to help them develop this strategy and they will want to hear from carers and the people they care for. They also want information from all the professionals that support the carers so that they can develop the strategy and understand the complexity of our caring roles.
To assist them in gathering this vital information I would like to call on all carers to fill in the online survey How can we improve support for carers? before it closes later this month on 31 July.  It's so important that carers take the time to fill this in as it's a chance for as many carers as possible to have your say - it is vital that as carers we are really heard and not just paid lip service to.
I would like to think this is more than another exercise to pacify carers but rather a real advancement in how our caring needs are met, it is vital that all professionals listen to what carers have to say if we are to move on.
Thank you to Tom Nutt, Yvette Wetton, and all the staff from Healthwatch Essex for their support and for a great day, where we feel we helped make a difference to carers. Support for carers has come a long way but there is still a lot of work to do to ensure that carers are being listened to, and properly supported in continuing in their caring role.