Today is World Social Work Day 2016 (WSWD) and, for the second time, this international celebration of the social work profession takes as its theme 'promoting the dignity and worth of peoples'.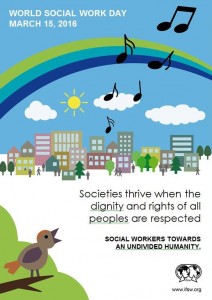 Writing in her latest blog, Lyn Romeo, our Chief Social Worker for Adults explains that 'enabling self-determination, withholding judgement, demonstrating anti-discriminatory and anti-oppressive behaviours which respect and support independence, are fundamental values within [social work] practice'.
Lyn is also hosting a special celebration of World Social Work Day on Friday 18 March to which she is gathering social workers, service users and carers to celebrate individuals and their communities.
Speakers include Dawn Wakeling, Director of Adult Social Services, London Borough of Barnet, who will deliver the keynote address, and Dr Ruth Allen speaking on mental health in adult social care. Other speakers and discussions will showcase international social work, the merits of co-production and the personal lived experiences of those who have worked with social workers and carers.
WSWD 2016 provides another opportunity for the profession to express international solidarity and to bring common messages to governments, regional bodies and to communities across the country – and the world. As work continues across our health and care sector to deliver person-centred joined up services - where the voice and expertise of social work is amplified, not diffused - there has never been a more exciting and critical time to be a social worker.