The new edition supersedes the version issued in October 2014 and takes into account the regulatory changes, feedback from stakeholders and care sector developments following the postponement of social care funding reforms to 2020.
Most revisions have been made for reasons of accuracy or clarity. Some are more substantial, such as those around safeguarding and the previously announced postponement to the funding reforms. The changes reflect learning from the first period of implementation and feedback from stakeholders and partners.
Of note are updates to the safeguarding chapter highlighting the growing prevalence of internet and doorstep scams, and the role of professional and practice leadership in adult safeguarding. On this latter point, the guidance emphasises the need for expertise within organisations where practitioners and managers can go for advice and recommended courses of action.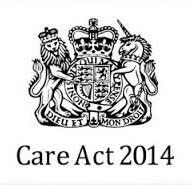 There is also acknowledgement of the potential role of Principal Social Workers in this area of practice – a reflection of the growing importance of social work generally, as its inclusion in the tenets of the Care Act and other significant pieces of legislation testify.
This department has produced a useful table of all the changes - available to view now on the Local Government Association website. Meanwhile, updated fact sheets should be available soon at the link provided at the top of this post.