The promotion of better mental health, particularly for children and young people, continues to be a priority for the government – and for our new Minister for Community and Social Care, Alistair Burt.

The Minister demonstrated his commitment to children and young people's mental health with a recent visit to the South London and Maudsley NHS Foundation Trust (SLaM). Here he witnessed first-hand how effective person-centred mental health care is being delivered to young people in south east London – and beyond.
SLaM provides the widest range of NHS mental health services inthe UK. It offers comprehensive care for children and young people presenting with mental health problems. Body dysmorphic disorder, obsessive compulsive behaviour, panic and eating disorders are just some of the conditions treated.
As well as providing local services for children and adolescents who live in Croydon, Lambeth, Lewisham and Southwark, SLaM also provides specialist services to young people from across the country.
Specialist staff and multi-disciplinary teams work together to help patients and families work towards recovery together. Crucially, SLaM staff work with children and their families and always seek their views on treatment.
The Minister met with SLaM's Chief Executive, Doctor Matthew Patrick, and Roger Paffard, SLaM's Chairman, to discuss the Trust's vision and achievements.
Jo Fletcher, Service Director for the Child and Adolescent Mental Health Clinical Academic Group and Doctor Mimi Simic, joint head of the Child and Adolescent Eating Disorder Service gave an informative presentation about the services offered to young people and their families - and introduced the Minister to young people using SLaM's services.
He also met parents taking part in the Empowering Parents, Empowering Communities programme which trains local parents to run parenting groups in schools and children's centres. These groups serve as support networks for families experiencing mental health issues, providing parents with helpful tools to support their children and look after their own health and wellbeing.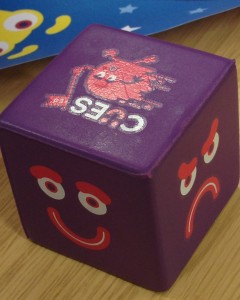 The minister was also intrigued by CUES-Ed, a schools programme created by SLaM clinical psychologists and CBT therapists to improve the emotional wellbeing and resilience of primary school children. The programme provides an innovative approach to engaging children and encouraging them to discuss mental health and wellbeing in a fun and non-stigmatised environment.
Reflecting on the visit, Alistair Burt said: "I've been impressed, not just by the excellent personalised services here, but also the emphasis on community based support for young people and their families. Add to that the great work of the Empowering Parents and CUES-Ed programmes and you have a positive template for mental health education within schools and the communities around them. Any initiative which seeks to raise awareness, reduce stigma and promote early intervention for those who need it must be encouraged."
You can find out more about the work of SLaM here and a storify of the visit – including reactions and images - here.