To mark the launch of the recent green paper consultation: No voice unheard, no right ignored - a consultation for people with learning disabilities, autism and mental health conditions, Kerry Martin and Craig Hart from the National Forum of People with Learning Disabilities and Vicky Raphael from the National Valuing Families Forum took time explain on camera why this engagement exercise is so important.
Hear and see what they had to say then consider how you and those you live and work with can encourage local conversations about improving and raising awareness of autism services in your communities.
And for those who haven't seen it, Norman Lamb, Minister of State for Care and Support, and Gavin Harding MBE, Co-chair of the Transforming Care Assurance Board, announced the launch with this video message on YouTube.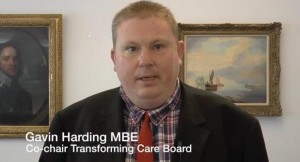 The consultation is live until 29 May 2015 and its findings will be presented to the next administration later in the year. This is your opportunity to make a positive difference in people's lives and we hope these films will inspire you to contribute.