David Pearson, President of the Association of Directors of Adult Social Services (ADASS) offers his personal view on A&E pressures and the need for social care to be properly funded and integrated with local health services – a need already being addressed by the Better Care Fund.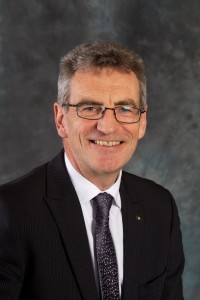 There seems little doubt the country's A&E departments are in some areas – not all – beginning to hit the buffers. The cold facts, as reported recently by the HSJ, are that the number of patients waiting longer than four hours is at a record high. Most recent 2014 NHSE figures show some 7,760 patients in one week waiting more than four hours to be seen, treated, admitted or discharged - the highest number since weekly records began in 2010, and getting higher.
Meanwhile emergency admissions via A&E were at their highest ever level in the week beginning December 1 with 110,092 patients admitted, of which only 87.7 percent were seen within four hours – "the worst performance since April 2013 when the UK experienced a particularly cold bout of weather." Delayed transfers of care also surged to a menacing 29 percent higher than for the same week in 2013.
Early in 2015, a new swathe of worsening figures have been released; media coverage has intensified, and the issue, as well as the collateral matter of delayed transfers associated with it, will be reconfirmed as a burgeoning political hot potato. New initiatives will be launched in order to assuage the problems.
Why are A&E pressures rising? There are a variety of reasons. The visits have been increasing year on year for ten years since primary care-out-of-hours were changed ten years ago. The College of Emergency Medicine has concluded that 15 percent of people who visit A&E could be treated elsewhere – a figure which matches the increase in the number of people who are living with long term conditions - particularly older people. We expect to have three million people living with three or more long term conditions by 2018 and the number will continue to rise.
It is fantastic news that we are living longer, but there are some illnesses associated with advanced age such as dementia, strokes and heart problems. People have an illness or an accident, maybe a fall, and come to A&E and then need admission. It is also not widely understood in the public mind at least, that the number of hospital beds has reduced by a third over the last twenty years - about a 60,000 reduction in all.
Of course this has partly been a response to the fact that people tend to stay in hospital for shorter periods; partly because of advances in medical and surgical procedures, but also because, despite views to the contrary, we have got better at caring for people in their own homes. Even 20 years ago it was calculated that the transfer of responsibility for community care from the social security budget to local government– and the subsequent withdrawal by NHS of what were then deemed to be `geriatric beds' - had saved the Treasury some £2billion. There is still a very real question about what is an appropriate number of beds given our population.
The process of transfer of care takes place when the hospital feels it has reached the end of beneficial hospital treatment. This doesn't mean that discharged people are 'well' and their continuing needs - which are often extensive - still need to be met in the community or at home. It has often not been understood that people have the legal right to make a choice if there is a need to choose a care home. It is quite right that sufficient time is given to make such an important decision. It needs to be stressed that continuing work in the community requires close working and coordination between health and social care: it is not only about the latter.
Despite a 26 percent reduction (£3.5billion) in savings being required of social care over the last four years, overall the proportion of delays attributable to social care has gone down from 33 percent to 26 percent. But of course, the overall number has gone up. It is still the case that a quarter of the delays are attributable to social care. Addressing these must therefore be a priority. It then brings into question whether it is sensible, given the increase in demand, to protect the health budget when there will have to be further cuts to social care because of reductions in funding. This makes no sense.
So what do we need to do?
The Better Care Fund objective is to join local planning to integrate care, albeit that the money, £5.3 billion has already been spent on priority care elsewhere. But it is right to:
Develop multidisciplinary care in primary care settings
Identify those most needing a proactive approach
Increase capacity on a seven day a week basis
Provide crisis intervention services
Involve the voluntary sector in community-based schemes
Share information efficiently
Develop more supported living schemes such as extra care
Develop more schemes to support people at the end of life to stay in their own homes
Give better treatment and services to support people to live well with dementia, and;
Make sure informal carers are supported appropriately.
We really do need investment in service provision in the community. Social care has a big part to play, but we need an aligned funding settlement within social care and health. We know there is a shortfall of £8billion from the Five Year forward view. Well, there is also a similar problem in social care. The LGA/ADASS report on the state of social care finances predicts a gap of £4.3 billion. This needs to be addressed alongside the gap in the health budget in the next spending round. We must use this period as a wake-up call for the need to plan and prepare for the changing needs and requirements of our population.
David Pearson
President
ADASS
Twitter: @ADASSdavidp