In her previous blog, Jo York Head of Better Care Portsmouth previewed a  local Better Care launch event, bringing together social care and health professionals with representatives from the voluntary sector, service users and carers. Here's her review...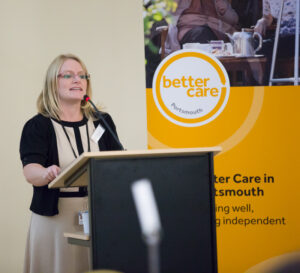 Innes Richens, CCG chief operating officer, opened the event with a reference to a 1920 parliamentary report which recommended bringing together services which today would be recognised as a social care and health system. Integrated care has obviously been a good idea for almost a hundred years.
The event took place at the beginning of October and the real success of the morning was getting this diverse network of people talking about the opportunity to work in partnership and keep patients and service users at the centre of what we do. Many delegates commented on the energy in the room and a sense that things really would be different this time – that we really can make care better.
We were privileged to be able to draw inspiration and motivation from our guest speakers. As someone with experience of health and social care, Holly Dunkley spoke passionately about service user involvement and helping others to be independent. Holly's blog shares some of her experiences and it was tremendously powerful to hear from her in person.
Director of Integration for Wiltshire, James Roach, gave us the benefit of his and his colleagues' experience as an integration pioneer area. They are now at the implementation stage and his advice was to get started and 'say yes to the mess' (the untidiness that is almost inevitable when you first start to embed a new way of doing things). His suggestion to introduce real-time feedback through a daily dashboard that monitors the whole health and social care systems performance struck a particular chord when we got everyone talking together.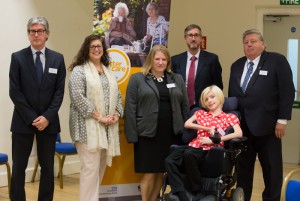 We opened our engagement discussion by tasking small groups to use 'Better Care' bank notes to show how they would invest in different services. Not making enough money available to meet the level of funding needed by each service triggered lively debate about priorities and a wide range of potential solutions were discussed.
The groups were then asked to consider the Portsmouth plans, and tell us what they felt would have a positive impact, what was missing, and what would be a challenge. In concluding the debate, participants were asked to reflect on their own role in making Better Care a success, encouraging stakeholders to really view this as their programme.
The event was a valuable opportunity to talk about the plans at an early stage and some common concerns emerged from the discussions. There was a shared feeling we should change working cultures, tackle IT and information sharing issues, and consistently communicate well with those who need health or social care, their families and carers.
Our challenge is to make sure these issues are addressed as part of the programme, as this will help make sure people really do get Better Care. Crucially, we must maintain the enthusiasm felt at the event and make sure it spreads to all our colleagues and communities.