World Mental Health Day 2014 marked 24 hours of focused activity on promoting better mental health around the world. In many ways though it's already been a 'mental health year' given the flurry of announcements, initiatives, consultations and new commitments made to improve the quality and provision of mental health services in England.
There's been no shortage of activity in the last week or so either, with the recent publication of a new five year plan to improve access to mental health services and the launch on MyNHS of easy to access ratings for mental health hospitals. Transparency, openness and the desire to place patients at the heart of the health and care system remains a guiding principle.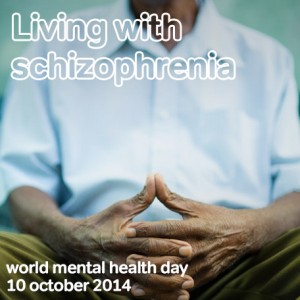 This year's theme for World Mental Health Day is 'Living with schizophrenia' – one of many prevalent and nuanced conditions needing bespoke, person-centred care to deliver improved health outcomes for patients, family, friends and carers.
In his latest guest blog post for Director of Nursing Viv Bennett, Ben Thomas, Professional Officer for Mental Health, Learning Disabilities and Dementia Care, salutes the fantastic contribution the nursing profession is making in this endeavour:
Nurses have a crucial role to play in encouraging people with mental health problems to take care of their physical health… Nearly a decade ago, the Chief Nursing Officer's report on mental health nursing showed that more had to be done to increase knowledge among nursing staff of the physical health implications in people with a mental health condition. In the last 10 years, a lot has changed. A recent survey of mental health trusts shows this focus has gained momentum. We have found lots of innovative examples; many of these led by nurses.
Read his blog post in full here.
Meanwhile, World Mental Health Day seemed an appropriate time to draw attention to a powerful film launched by South London and Maudsley NHS Foundation Trust, the Metropolitan Police and the London Ambulance Service. It demonstrates how police, ambulance and hospital staff can work together more effectively in mental health emergencies. Take a look – it's the Mental Health Crisis Care Concordat in action.
Lastly, in the spirit of World Mental Health Day, the Foreign Office has updated its advice on how British travellers with mental health issues can prepare for their journey and get help when abroad. Mental health crises are no respecters of time or geography.
Your participation - your views
So, have you been involved in World Mental Health Day? Do you believe these campaigns make a difference and – if so – what do you hope can be achieved in the months and years ahead? Post your comments using the feedback facility at the bottom of this post.