"Social media are often in the news for the wrong reasons, but in the last two years I have been struck by something positive - the emotional support they offer to people who cannot easily find it elsewhere", explains the Chair of the National Suicide Prevention Strategy Advisory Group, Professor Louis Appleby.
There is a community of individuals out there who, despite - or perhaps because of - difficulties in their own lives, are willing to provide sympathy or encouragement, or sometimes just acknowledge what a person is facing, even though they may not know each other outside a 140-character twitter exchange.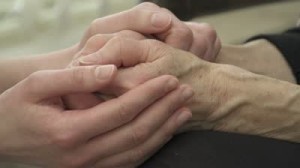 The theme of this year's World Suicide Prevention Day is connectedness: emphasising the value of support between people, support for families bereaved by suicide and support from services.
This focus aims to combat the isolation of an older person, living alone and feeling empty after the loss of a wife or husband - older people are particularly at risk after physical illness or the death of a spouse. It is also a reminder of the men who are reluctant to ask for help, fearing that depression will be seen as a weakness. In England, middle-aged men are the group with the highest suicide risk.
The connectedness theme also highlights the need for access to services: no-one should have to wait for access in a mental health crisis, any more than in a physical health crisis. Even when the services are there, some people at risk mistrust them, having felt let down in the past. This is particularly true of the 200,000 people per year who self-harm in this country who, with each episode, acquire an unfair and unsafe reputation with staff for being "attention-seeking". These are often the people who can find, as well as give, support on social media.
In recognising suicide prevention as a global problem, the World Health Organisation is promoting connections and mutual learning between countries. There are 800,000 suicides every year worldwide: suicide is a global problem. In England there are almost 4,500 suicides annually but we have one of the lowest suicide rates in Europe: 75 percent of suicides occur in low and middle income countries. Much of the evidence on risk and prevention has come from the UK: now we should try to ensure the benefits are universal.
Read the WHO report: Preventing Suicide: a global imperative
Follow Professor Appleby on twitter: @ProfLAppleby