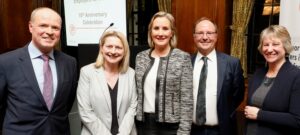 Last month, our Minister for Care Caroline Dinenage attended the launch of Carer Confident in Westminster, a new employer benchmarking scheme designed to help businesses of all shapes and sizes create more carer-supportive workplaces for their staff.
Funded by the Department of Health and Social Care (DHSC) and led by our respected sector partner, Employers for Carers at Carers UK, it brings to fruition one of the many tasks set out in the Carers Action Plan – a focused, two-year programme of collaborative activity designed to improve support for unpaid carers throughout England.
Anita Wadhawan (DHSC carers policy team), led the work on developing Carer Confident on behalf of the department. Here she explains the background to its creation and why schemes like these make such a positive difference in working carers' lives…
Let's start with statistics.
New research published last week by Carers UK and YouGov shows that one in seven people now juggle work with caring for someone who is older, ill or disabled. The numbers of friends, families and loved ones managing additional obligations away from the workplace will, like our population, continue to grow.
Without the right support, one in six working carers are likely to give up employment or reduce their working hours to care. They will often be highly skilled and knowledgeable and a significant percentage will occupy the 45-64 year age bracket.
Many in this age group will be at the peak of their careers, with much to offer new and less experienced colleagues in terms of insight, leadership and mentoring.
When you consider this potential exodus of accumulated wisdom and the negative impact on lives, health and happiness, building a supportive workplace is not just sound business sense or good employment practice - it is also the right thing to do.
The Carer Confident benchmarking scheme is the embodiment of these values – blending commerce with compassion and maximising the benefits of both. It assists employers to build supportive and inclusive workplaces for staff who are, or about to become, carers and to make the most of the talents they bring to their teams.
It's a win-win for employers and employees, bringing out the best in each other in the recognition of mutual needs, goals and aspirations. And happier colleagues are more productive workers – with or without caring obligations.
Nearly 120 businesses, representing around 1.5 million employees are signed up members of Employers for Carers and we'd love to see many more join their ranks.
Likewise, we want all employers to become Carer Confident (Carer Positive in Scotland) and to recognise the importance of retaining valued members of staff, reducing absence and unnecessary recruitment costs, and increasing staff resilience, engagement and productivity.
Carer Confident seeks to recognise employers who achieve this mutually beneficial state and to inspire others to follow suit.
A certificate of achievement is awarded to those businesses who have created and sustained inclusive workplaces where carers are recognised, respected and supported.
So, if you manage or work in a business eager to find better ways to support colleagues with caring obligations, visit Employers for Carers' Carer Confident page to find out more.

Find out more
Carer Confident represents just one of many commitments shared between government and valued partners in the Carers Action Plan launched last year.
About Anita
Anita Wadhawan joined the Department of Health and Social Care (DHSC) Carers policy team in 2017. Since then, she had been leading on work to support unpaid and informal carers and is delighted that Carer Confident has officially launched.