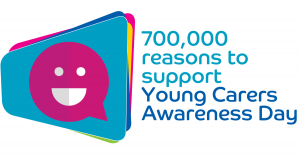 Lavinia Scott (24) remembers the early days of her caring role very well – it started when she was around eight years old as her mother endured a series of mental health issues including severe depression. In this third and final blog counting down to Young Carers Awareness Day on 26 January, Lavinia reveals the psychological cost of caring for loved ones and how she hopes to break the cycle for herself and her own children…
I would awake from my 'slumber' (I don't think I actually ever used to sleep at all, with worry constantly in the background, like a fly buzzing around my head) at around 6.45 each morning.

The same routine would kick in each day: care for mum before school, help my younger sister get ready for the day, attempt education, care for mum after school and make sure sister was fed and ready for bed, attempt sleep. Repeat.

My dad left when I was 10. Suddenly my caring role increased a whole lot, as my mum developed chronic fatigue syndrome and the emotional burden eventually became almost unbearable for me.

Each morning I would dread going to school. The thought of leaving mum on her own would make me feel sick, and my friends used to mock me for always being absent from class (I would skip school to care for mum if she was having a bad day).

As I went into my teenage years I dreamt of becoming a nurse. I knew I was good at it – I cared for mum's mental and physical health every day. I was there for her on her really low days.

My days became a blur of caring and struggling with my own mental health – self-esteem and confidence issues and resenting what life had become. I found that art could be an escape for me – a form of therapy where I could express what I was feeling in a positive way rather than in ways which were hurtful to me and others.

I'm 24 years old now and studying BA in Illustration in my final year at university. It's taking me longer than expected to complete the course as along the way I've had two children of my own, and come through some major incidents related to my own mental health.

I still struggle. Sometimes I see a vision of the future where my two children are caring for me in the same way that I cared for my mum and that terrifies and saddens me. I don't want that for them, or for caring to become a cycle for our family for generations to come.

I've turned to local services such as Young Adult Carers Redbridge, a Carers Trust partner, for help with my own mental health. With their support I hope to break a cycle that seems almost inevitable.
Discover what you can do to support young carers and join in the conversation on twitter: #YoungCarersAwarenessDay