Understand the lived experience of carers, give us the foundations of support to care well without compromising our own health, and appreciate that health and care professionals are not the only experts.
These and other sentiments were candidly and positively expressed at the recent State of Caring conference hosted by Carers UK. It was an opportunity for the Department of Health (DH) – manifest in convivial human form by Alistair Burt, Minister for Community and Social Care and our policy leads Mark Browne and Amy Baldwin - to showcase the work on creation of a new Carers Strategy, the ongoing engagement exercise informing it, and to answer questions from delegates.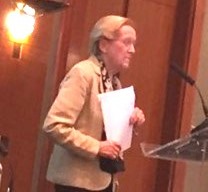 It was especially humbling and informative to hear from carers themselves, including Margaret Dangoor whose husband has advanced dementia. She talked openly and with humility about the mental and physical stresses of caring.
Margaret made a plea to government and service providers to get the basics of carer support right first, and then pursue technological innovations. Commenting on her own experience and that of other carers, she observed the equipment they are expected to use is often out of date and difficult to maintain.
Dame Philippa Russell DBE, Vice President of Carers UK, Chair Emeritus of the Standing Commission for Carers and carer for her son with learning disabilities for more than 50 years, set out her personal vision of what a carers' strategy might look like…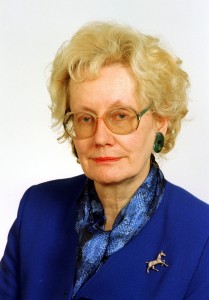 She felt that any new support framework should be "creative, intergenerational and avoid demonising older carers." She spoke of service commissioners and providers sometimes assuming carers' expectations were too expensive or impractical to realise. "Proper engagement with us" would prove this not to be the case, she suggested.
Dame Philippa also emphasised one critical aspect of support which often gets neglected: appropriate housing. She felt so strongly she mentioned it twice! For more on this topic, see this blog post from our Director General for Social Care, Jon Rouse.
Alistair Burt addressed a receptive and appreciative audience, setting out the case for a new strategy; a case which is already mindful of the concerns raised by Margaret, Dame Philippa and others at the conference. He used the opportunity to share some emerging themes from the call for evidence, including:
the need for more employers to recognise and support staff with caring responsibilities
the detrimental impact on carers education and training aspirations
a sense that society does not properly value the contribution unpaid carers make
He also observed the need to better understand and support the health and wellbeing of young carers – a group understandably harder to reach than others. Work is underway with colleagues at the Department for Education to boost engagement in this area – watch this space!
In his closing remarks, the Minister observed that "real, lasting change only happens through true collaboration. That means government, communities and health and care services working together in recognition of the value and needs of carers in society."
Meanwhile, DH colleagues enjoyed meeting delegates on the exhibition stand and encouraged them to pick up pens and record their hopes, fears and ideas for the Carers Strategy across two pinboards.
Mark and Amy also took to the conference stage to explain the genesis of the call for evidence and answer questions from the floor. The feedback received was incredibly valuable as was the forging of new connections with carers, care organisations and more than one enthusiastic local Healthwatch representative.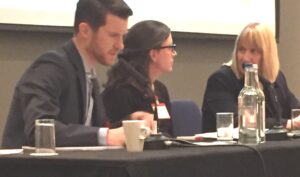 Whether inscribed on sheets, vocalised from the floor or shared on twitter, every interaction - every new connection - will be used to inform the shape and delivery of the strategy.  Online or offline, your views are equally valuable. Thank you!
The sound of caring
For those of you unable to attend on the day, or who missed our live twitter coverage, click on these links below to hear the views, hopes and concerns of delegates and speakers at the conference.
Get involved
The call for evidence is still open – if you are yet to contribute please do so now and help shape the future of carer support in England.