Alex Crisp has been part of the street triage project from its earliest beginnings in Leicestershire. In December 2012, he became one of the first police officers to work on the Mental Health Triage Car known as MH01, working alongside dedicated mental health nurses from Leicestershire Partnership Trust. At the time, he was a Police Constable working for Leicestershire Police as a response officer. This week Alex, his colleagues and associated health professionals came together for the first Street Triage EXPO. Alex looks back to the beginnings of the scheme and expresses his confidence and hope for its future...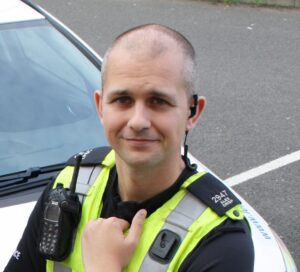 The role of response officer is the coal face of policing - the proverbial 'thin blue line'. A reality of policing in this role is the significant contact you have with mental illness. The role of the police is primarily about criminal justice and public safety but in reality it encompasses far more.
Police contact with mental illness comes in a variety of forms often linked to our core functions, for example mental health consumers who become victims and witnesses of crime.
We have specific roles and responsibilities under the Mental Health Act, which we may be asked to perform in partnership with other organisations. However, the most taxing area of work which the police respond to is those at the point of crisis. It is this area which I believe causes the most organisational conflict, and which services such as street triage have successfully addressed and revolutionised.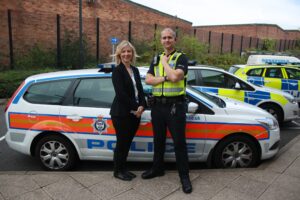 I will be completely honest, when I became involved with our MH01 project I felt that it was destined to fail due to the relationship being so strained between the police and health services. Ironically I think that cultural change has been one of the most significant parts of our journey with Street Triage and I am proud to say that I was wrong.
A comment made by one of the visitors to our service has become my definition of street triage. Street triage in Leicestershire has both figuratively and literally become 'a vehicle for change' in the response to mental illness. The partnership response to mental illness has changed both operational practice but also organisational relationships creating an environment of cooperation rather than friction.
The Street Triage EXPO which we hosted in Leicestershire on 25 August 2015 marked a significant point for me. We gathered representatives from around England and Wales who had an interest in the methodology and jointly celebrated the successes and passion to support those in our community. What I took away from the event was that there was a reality attached to street triage in the fact that you can't stamp a brand or service spec on it. It needs to develop and grow in different ways depending on your local circumstances and what you have today needs to adapt to the requirements of your community.
I am proud of our successes in Leicestershire and the work of colleagues across the UK and hope that the development of street triage continues.