After seven years of passionate and committed service, Dame Philippa Russell OBE is to stand down as chair of the Standing Commission on Carers (SCOC). She relinquishes the post on 31 December.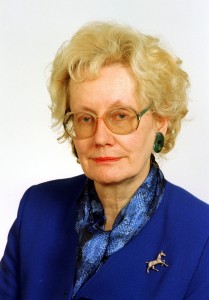 The Standing Commission is an independent advisory body which provides advice and insight to Ministers and the Carers Strategy Cross-Government Programme Board. Its work informs the strategic vision of the national Carers Strategy.
Over the best part of a decade, Philippa has given the Standing Commission the benefit of her wisdom and guidance, drawn in part from her own personal experience of caring for her disabled son.
Philippa has worked tirelessly to promote the interests of carers throughout the country and has managed this brilliantly alongside her own significant caring responsibilities. Her involvement in the carers' agenda spans more than five decades.
She worked for the Council for Children's Welfare 1968–76 before becoming director of the Council for Disabled Children 1976–2003. She was disability adviser to the National Children's Bureau 2003–07 and the Department for Education and Skills 2003–05. Prior to chairing the Standing Commission, she was also a commissioner of the Disability Rights Commission from 2002 until its abolition in 2007.
Many Department of Health colleagues have expressed how inspired they have been by her experiences and her deep understanding of the many roles and challenges carers face. Add to that her positive outlook and very practical advice about juggling caring with other aspects of life, including paid employment, and it is clear why her counsel is so highly valued.
National and local policy makers (both public and voluntary sector) have admired Philippa's strategic vision and eminent good sense. She understands well the constraints under which those of us working in or with the care and support sector have laboured over the last seven years. Her suggestions are always pragmatic and solution based with the best interests of carers at heart. She has worked well with colleagues across government as well as closely with DH in social care reform. Her advice on carers' aspects during the passage of the Care Act through Parliament was also valued by the Department:
The Care Bill in many respects marks a quiet revolution in our attitudes towards, and expectations of carers. At last, carers will be given the same recognition, respect and parity of esteem with those they support. Historically, many carers have felt that their roles and their own well-being have been undervalued and under-supported. Now we have a once in a lifetime opportunity to be truly acknowledged and valued as expert partners in care.
And while significant challenges remain for carers and the cared for, she acknowledges achievements made and is optimistic about the future, as this quote from her guest post on Viv Bennet's blog testifies:
In my (nearly) half century of caring, I have seen positive changes. My son, now middle-aged, was offered a long-stay hospital place when he was born. Now he has his own house, is endeavouring to set up his own small micro-enterprise, growing vegetables and enjoys a creative and personalised day service. He also uses a number of inclusive 'well-being' services in his local community, which I hope will support a healthy future.
Ministers have valued the contribution she has made in representing carers in other committees, such as the Ministerial Advisory Group on Mental Health. And she has worked closely with NHS England and other health bodies in raising understanding of how carers can best be supported by health professionals.
Philippa is also a member of the Think Local, Act Personal Partnership (TLAP) National Co-production Advisory Group and the NHS Equality and Diversity Council.
SCOC members and the support team in the Department have much appreciated her wisdom and skills in leading the SCOC since its inception and her kindness and friendship.
Philippa's contribution to raising the profile of carers of all ages -including young carers - cannot be overestimated. She will be sorely missed as Chair of SCOC but there can be little doubt she will continue to support carers in many other ways!