The Department of Health has published a new report setting out the government's plans to improve access to mental health care services.
Significantly, it introduces the intention to roll out national waiting time standards for the first time by April 2015.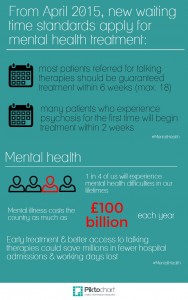 The report also takes a forward look, establishing its vision for better access to mental health services over the next five years, a vision which seeks to place mental and physical health services on an equal footing – for those receiving and providing them.
Indeed, this is the aspiration of our Care and Support Minister, Norman Lamb:
"I want to build a fairer society and that means mental health has got to be a priority for everyone… I am absolutely determined to make sure anyone with a mental health condition can expect the same standards of care as they would for a physical health problem."
Take a look at the report and, whether a service user or provider, why not share your thoughts with us using the comments facility at the bottom of this page?