'Why is the home we live in so important to us?', asks Tony Hunter, Chief Executive of the Social Care Institute for Excellence (SCIE), in his latest post for the Social Care News blog.
They are places where life happens – great memories and happy times with friends and family. We set them up to our idea of comfort – from a garden view, to having a favourite chair in just the right place to catch the sun. For older people living with complex needs, they are also places of dignity, independence and a sense of self.
Both my parents have been enabled to stay independent as long as they can due to the adult social care they have been provided with. They are able to enjoy a dignified life, in their communities, at little cost to the state, and remain in control and as independent as they can be.
Daughter, West Midlands, speaking in SCIE's new guide.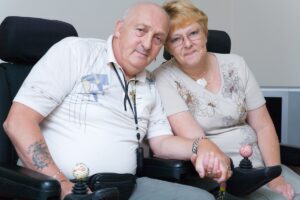 Continuing to live at home means older people need care and support services that meet their needs as individuals. And the people best placed to tell us what this means are of course older people themselves and their families and carers. That's why SCIE has developed a new guide to help commissioners work with older people to deliver services that mean they can live well in their own community.
With a growing population of people over 65 in the UK, the drive to keep older people out of hospital means the way care is provided at home is coming under the spotlight. Commissioners can address this new focus by developing an understanding of the complex needs of older people in their area, developing services that support the person rather than a series of separate conditions. Involving individuals, their families and carers at every stage of the commissioning process will help everyone understand what really matters.
Older people have told us what they really want is to remain in their own homes and have a good quality of life. This means remaining part of the community, being able to go to the local shop or chat with neighbours – whatever is possible to reduce loneliness and enjoy everyday life. They want a good relationship with their paid carers and to see the same people on a regular basis. Conversation and friendliness are key factors when deciding whether they have a good carer or not. Care that recognises them as an individual is also highly valued.
The sector will need to work together to provide this level of support but I believe that home care services really can make the difference to quality of life. Commissioning services with the needs and wishes of older people in mind will help more people to live with dignity and comfort in their own home.
Find out more in our Commissioning Home Care for Older People guide
Follow me on twitter: @tonyhunterscie