Are we more anxious as a nation? Are the years of austerity, threats of terrorism, worries about our health and the privations of old age taking their toll - more so than in previous generations?
Whatever the reality, the Mental Health Foundation (MHF)'s recently published report, Living with Anxiety, reveals "nearly one in five people feel anxious a lot or all the time and, for this group, anxiety is something almost two-thirds experience on a daily basis."
Perhaps not surprisingly, the young and the unemployed are more likely to feel anxious, making them prone to coping strategies at odds with healthy living. The survey also indicates only seven percent of us seek help for anxiety from our GPs – a lack of self-awareness perhaps and evidence of society's continuing stigma around mental health issues.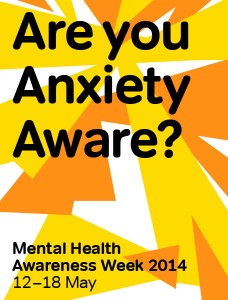 No surprise then that Living with Anxiety is a primary focus of this year's Mental Health Awareness Week (running  until 18 May), the theme of which is to "raise awareness and understanding of anxiety and its potentially debilitating effect on the nation's mental health and emotional wellbeing." When you consider anxiety lies at the root of many mental health problems, or at the very least, exacerbates them, it's clear why the MHF has the condition firmly in its sights.
So, are you anxiety aware? Is the organisation or community in which you work and live understanding and supportive of those who struggle to cope day to day? Either way, this week is an opportunity to promote awareness.  If you haven't done so already, get involved online or take advantage of free to download promotional materials, which include campaign posters and guide leaflets.
What's your story?
If you have used or provided services designed to help people manage their anxiety, the MHF – and this blog – would love to hear from you. What works? What doesn't? What more can we do as a society, and as individuals, to manage anxiety in ourselves and others? It's a big topic so please don't be shy in sharing your views and experiences.