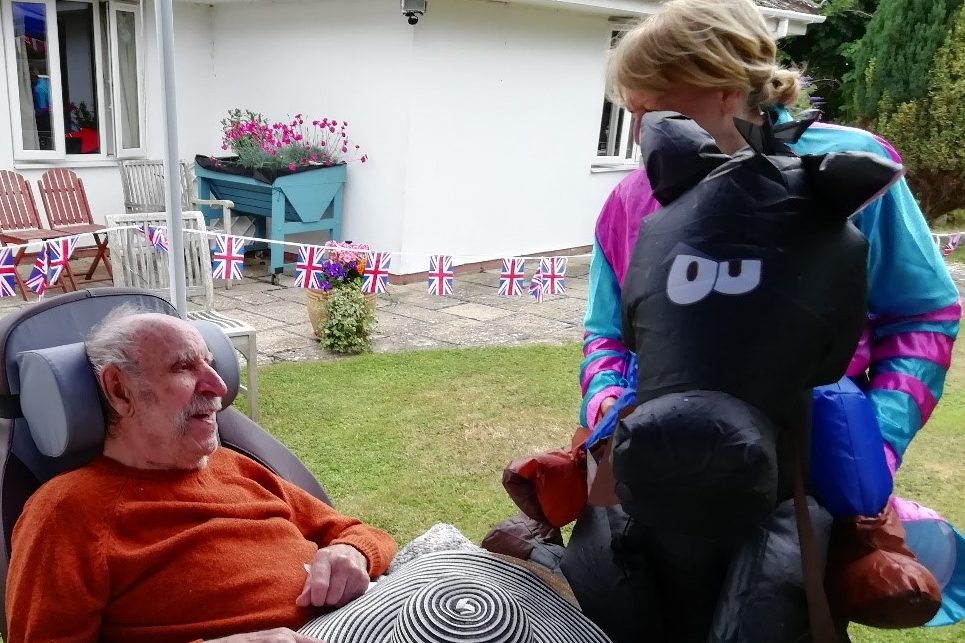 ---
Pandemic positivity
It takes more than a global pandemic to dampen spirits in this care home – just ask our residents!
Wearing fancy hats and wrapped up for a grey April day, residents sat in the garden cheering on our healthcare assistants (HCAs), nursing staff and management team as they galloped around the garden in inflatable horse costumes, with only thinly disguised competitiveness.
Our Royal Ascot 'day at the races' brought together staff and residents and created a real buzz in the home. Meanwhile, the positive feedback on social media helped reassure relatives their loved ones were still able to have fun – safely - in these difficult times.
At the start of the first lockdown, our matron warned us the danger was not limited to the virus itself, but included the negative effects of increased isolation and the lack of stimulation residents would likely experience. It didn't help that COVID-19 drew a big red line through our activity programme.
How did we respond to this challenge? Firstly, being a small, cohesive home, with a tight knit family of staff, we were able to adapt fast. A strong sense of collective responsibility has seen our colleagues suggest and embed best practice across the home.
They have followed official guidance and done what they can to minimise infection risks and been keen to take up the offer of free flu jabs. Weekly swab tests have given reassurance, and staff are largely able to register their tests for themselves now, which takes the pressure off admin staff.
Secondly, strong relationships with relatives have helped us keep them as connected as possible within the infection control guidelines. One of the major challenges has been those relatives who are not internet savvy, but garden visits in the summer months and reassuring phone calls have helped.
Finally, we refocused on what matters most to our residents. It's the banter, the chat, the jokes and shared feelings that create a real emotional uplift for them, rather than the activities themselves.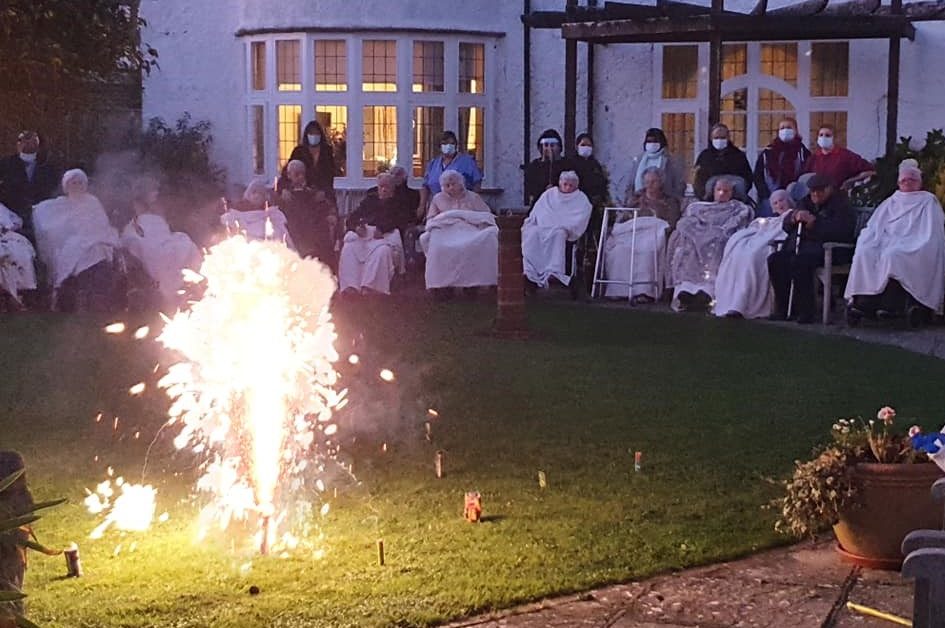 Maintaining connections
COVID-19 may have put a stop to much we could offer, but with a little creativity and being mindful of measures to prevent cross infection, we have still been able to engage and connect in a person-centred way.
This can be as simple as reminding all staff that it's OK to spend five minutes sitting and chatting with residents over cups of tea. Or creating a playlist of their favourite songs for when they are in the mood for a dance or sing along.
It's also about maintaining the sense of community within the home through events which involve us all. Events that are fun and encourage collaboration are invaluable morale boosters. Residents' suggestions, such as a limbo dance party in the summer, and a whole home fireworks party with sparklers and mulled wine were loved by staff and residents alike. By taking a little time to consider the risks and take the necessary precautions beforehand, much can still be achieved.
Thankfully, at the time of writing this blog, we have not experienced a COVID-19 outbreak, but our heart goes out to those who have not been so fortunate.
What we all share is an ongoing fear of infection and the possible consequences. Reassurance and a sense of perspective has come from a surprising source, the residents themselves.
By listening to those who experienced typhoid outbreaks, long stays in hospital with smallpox, and growing up in the London blitz, we cannot help but feel inspired and reassured that a strong sense of community will carry us through these challenging times.
Read the latest COVID-19 guidance for care homes