"Caring for friends and family can be tough, especially if you're a sandwich carer," explains Fatima Khan-Shah, the driving force behind a new Carers Charter now launched in the Kirklees area. "You may be caring for your parents in law or your children whilst trying to maintain some semblance of a career." Here's how she does it…
This morning, for example, I was nearly 20 minutes late for a meeting at work as I had to resolve an emergency with one of my carers and straight after this blog I'll need to log on and pay for my daughter's school meals!
That's the reality of being a carer - sometimes you are juggling every minute of the day and although on the surface you may appear to be coping with life as gracefully as a swan, in reality you are frantically peddling away under the water just to keep up.
Anyone can be a carer, regardless of race, gender, faith or socio-economic background. It can happen at any point; it can be a temporary responsibility or longer term and life changing. I am often asked how I cope. The answer: with the help and support of the people around me, a community which understands, coupled with supportive peer networks and employers supportive of the caring responsibilities of their workforce.  In short - a carer friendly community.
This is the Carers Charter's vision - a carer friendly community where:
the contribution of carers is recognised and valued;
the health and wellbeing of carers is a priority;
information and advice is timely and relevant;
carers are experts and partners within the health and social care system.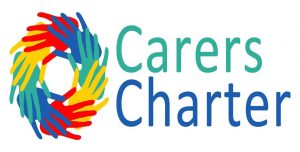 Finally, after two years of collaboration, a vision to transform Kirklees into a Carer Friendly Community is now finally becoming a reality with the Carers Charter.
The charter is a toolkit developed in collaboration with North Kirklees and Greater Huddersfield CCG. Kirklees Council - and most importantly carers themselves - formally launched the charter earlier this month at Huddersfield Town Hall.
This innovative approach is already a catalyst for creating carer friendly communities, which in turn will create efficiency savings by utilising carers' contributions more effectively in the health and social care system. I am confident it will do this without compromising on quality outcomes for carers or the people they care for.
For more information please visit Investors in Carers or email info@investorsincarers.com