In a follow up to Dr Sam Bennett's blog of 30 September, just a brief reminder that our good friends at Think Local Act Personal (TLAP) are seeking your views on their latest online resource to support personalised care and support planning. You have until next Monday 9 November to submit your thoughts.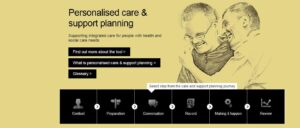 Personalised care and support planning involves health, social care, voluntary sector professionals coming together with the person who uses services in a 'meeting of experts' to plan and deliver their support.
The resource was developed to stimulate and inform service design and highlight some common principles that should underpin any local approach. Feedback on the BETA version has been positive – with comments from social workers, nurses, carers and voluntary sector leaders.
TLAP are keen to collect more responses to help tailor the content and inform future additions.