Alistair Burt, the Minister for Community and Social Care, spoke today at The King's Fund's 'Improving mental health outcomes for children and young people' event. Six months on from the publication of Future in mind – the Government's report of the Children and Young People's Mental Health and Wellbeing Taskforce - he provided an update on the progress made in that time.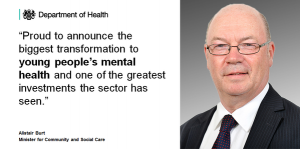 Significant developments included next month's launch of the largest-ever national anti-stigma campaign for teenagers and parents. The Department of Health is funding the campaign, which will be run by Time to Change and will involve social marketing activity targeted at teenagers, as well as in-school activity to boost the support available for pupils, and targeted marketing and information for parents. Young Minds and Public Health England are also involved in the campaign.
Alongside the Health and Social Care Information Centre, the Department of Health is commissioning the first national survey of children and young people's mental health since 2004. A consortium of NatCen and the Office for National Statistics has been selected to conduct the survey, and will start work immediately.
This morning, NHS Choices launched a new section on its website, which aims to help young people find reliable information about symptoms, conditions, treatments and services available to them. Young people have been involved in its design, which includes information on a range of mental health conditions including: anxiety, stress and depression; help with coping skills and building resilience; and a directory of local youth specific mental health services including support with eating disorders, talk therapy, self-help groups, and drug and alcohol services.