The point has been made for this conference – and those before it – that it's all very well for the health and care sector to meet, discuss and debate the great policy issues of the age, but we must not forget that our work is in service to those whose lives we seek to support and improve.
That's why we're pleased our two Care Act sessions this year (details below) do more than simply reference the needs and aspirations of service users, carers and care providers – they are active participants in our presentations. Cheryl Wales, who cares for her mother in Kingston, and Kate Dudley, Chief Executive of the Kingston Carers Network, look ahead to sharing their experiences and aspirations with delegates: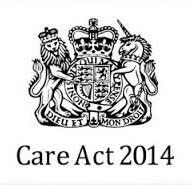 Cheryl Wales, Kingston
"I am a carer for my mum who is in her 80s and lives alone. In May this year, I attended a Care Act information meeting in my local area. I found out that my mum and I were both entitled to an assessment.
"After a very rocky start, I am pleased to say that things have worked out well for us both and we are getting the support we need. I will be telling our story at the NCAS session: 'The Care Act: 6 months on, what difference has it made?'"

Kate Dudley, Chief Executive, Kingston Carers Network
"Since April 2015, we have been working with the Royal Borough of Kingston to test out new approaches to assessment and support planning for carers. I hope that local authorities can recognise that carers' centres are often in the best position to assess the needs of carers.
"Carers should be fully involved in the assessment process and their needs given the same regard as the people they care for. I would also like to see the same regard given to young carers and parent carers. This will need adult social care and children's services to work more effectively together."
Our care and support sessions
Cheryl and Kate will be participating in 'The Care Act six months on – what difference has it made?' (Wednesday 14 October 12.30 -1.15pm, Tregonwell Seminar Suite) alongside Harold Bodmer, ADASS presidential team and Simon Medcalf, DH's Deputy Director of Social Care Policy and Legislation. Discussion will focus on how the Care Act is changing the way frontline services are being delivered. Cheryl and Kate will be offering their perspectives as carer and care providers in the Kingston area.
The cap on care costs may have been delayed to 2020, but as you'll know, the Care Act still requires local authorities to act now on their obligations to providers and recipients of services. Effective implementation still depends on positive engagement with the sector - and users of care and support - to make sure local services are responsive to local people's needs. On Thursday 15 October, Clara Swinson, our Director of Social Care Policy, will lead discussion on 'The Care Act: where next?' (4.15-5.15pm,Tregonwell Seminar Suite). She will be joined by local authority speakers from Surrey and West Sussex as well as a representative from Age UK West Sussex to discuss what more can be done over the next five years to support local people and manage future demand.