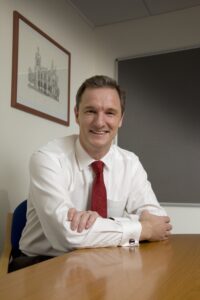 I was pleased recently to welcome the new Minister for Community and Social Care, Alistair Burt MP, to The National Autistic Society's (NAS) Linden House service in Godalming Surrey.
Joining me to welcome him were a number of people on the autism spectrum and the staff whom we support.
This was a great opportunity to meet with the Minister, and for him to hear about some of the things that are most important to the 700,000 people living with autism
The Minister heard presentations from Jake and Jamie, which provided a useful insight into life with autism - and what a difference being diagnosed in good time and getting the right support at the right time can make. Having a local route to diagnosis and care and support are important parts of the ground-breaking Autism Act, but we know that progress in implementing them has been patchy. Jamie explained how important it is to get support, and told us how Linden House was helping him gain skills to get a job and make friends. Thanks to the support and guidance he receives here, he finds it easier not to feel like "the odd one out."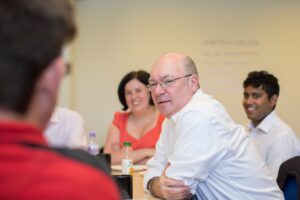 Meanwhile, Jake and his brother had created a short film that, for me, explained brilliantly one of the biggest challenges we face: improving understanding of autism. In this film, Jake and his mother talked about the support he needs day-to-day and how important it was that people understood autism. But, he said, not enough people have that all important understanding. Recent NAS research shows that although 99 percent of the population have heard the term 'autism', understanding its meaning remains vague for many people. This needs to change.
It makes a difference to have the Minister hear these stories first-hand. It makes them authentic, and it was clear from his comments afterwards that he understood their importance:
"I was delighted to visit the National Autistic Society's service in Godalming. Since I was last in Government as Minister for Disabled People, I'm glad to say that public awareness of disability and autism has improved significantly. I have seen today, however, that there is a huge amount more that needs to be done. This needs to start with the shift from public awareness that autism exists to an understanding of what autism means and how it can impact people and families.
I'm glad to have had this time to hear about which aspects of the health and social care system people with autism feel most need to change, and to see how crucial services like Linden House are to people having a good quality of life. Improving support for and understanding of autism is and remains an important priority for the Department of Health."
At Linden House, the NAS provides educational, recreational and vocational training in a college-type setting. This helps autistic adults live independently - and find jobs. There are some great projects underway at the service to build people's skills, including an allotment, which is currently producing a range of produce.
I'm sure the Minister had plenty of ideas to go home with. He also went home with a bag of potatoes!