Last week, Anna McEwen, Director of Support & Development, Shared Lives Plus and our Secretary of State for Health Jeremy Hunt, spent a sunny Friday afternoon with some amazing Shared Lives carers and the people they support.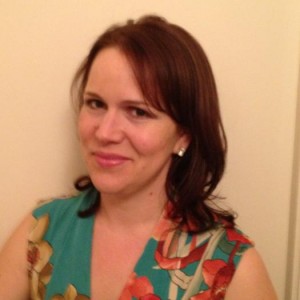 Following a short meeting at Newham Council offices to introduce the Secretary of State to the Shared Lives model, including a look at our short film, we headed off to see Shared Lives in action at carer Brenda's home.
Brenda supports two men (Kevin who has learning disabilities, and Louis who is recovering after a brain tumour) who live with her as part of the family.
We were also joined by Shared Lives carers Elizabeth, who supports visually impaired man Dipan, and Evangaline, who supports John, an older man with mental health issues.
We sat in Brenda's garden in beautiful sunshine while Mr Hunt chatted to Brenda, Elizabeth and Evangaline about why they joined the scheme and became Shared Lives carers. He then turned to Dipan, John, Kevin and Louis to find out from them about what life is like in Shared Lives.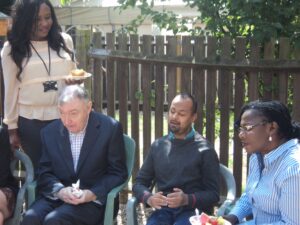 Dipan explained how he'd been living with his family in less than ideal circumstances before coming to live with Elizabeth and how happy he now was. John had lived on his own, but had become very vulnerable to other people, so is now learning skills to live independently with his Shared Lives carer and he hopes to one day live on his own again.
While everyone tucked in to delicious plates of fruit and cakes, Dipan sang the song he'd been practising. He performed an amazing rendition of "Lean on me", very apt for Shared Lives - it really does give people someone to lean on when they're not strong. Shared Lives carers really are the friends that help people to carry on.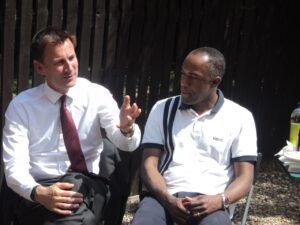 This afternoon summed up all that is unique and special about Shared Lives, that people who share their lives with others can get together in a garden in Newham, un-phased by having the Secretary of State to visit and demonstrate the strength of relationships they have with the people they support.
The best advocates, as ever, were Dipan and John who simply, yet powerfully, told of the difference their carers have made to their lives, and John's wish that more people could experience support through Shared Lives.
Find out more about Shared Lives Plus